Station CLKN7 - Cape Lookout, NC
Owned and maintained by National Data Buoy Center
C-MAN Station
MARS payload
34.622 N 76.525 W (34°37'18" N 76°31'30" W)

Site elevation: 4.6 m above mean sea level
Air temp height: 6.4 m above site elevation
Anemometer height: 9.8 m above site elevation
Barometer elevation: 11 m above mean sea level

Right whales are active off NC from November to April. Speed restrictions of 10 knots apply to vessels 65 feet or greater within the vicinity of this station between November 1 and April 30. To learn more about right whales and rules protecting them, go to:
http://www.nmfs.noaa.gov/pr/shipstrike
.
Meteorological Observations from Nearby Stations and Ships

Regional HF Radar Surface Current Observations
Large icon indicates selected station.
Stations with recent data

Stations with no data in last 8 hours
(24 hours for tsunami stations)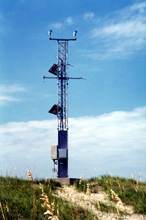 ---
Conditions at CLKN7 as of
(10:00 pm EDT on 05/27/2023)
0200 GMT on 05/28/2023:

Click on the graph icon in the table below to see a time series plot of the last five days of that observation.

Wind Direction (WDIR):
NE ( 40 deg true )
Wind Speed (WSPD):
13.9 m/s
Wind Gust (GST):
16.0 m/s
Atmospheric Pressure (PRES):
1015.7 mb
Pressure Tendency (PTDY):
-0.9 mb ( Falling )
Air Temperature (ATMP):
18.5 °C
Wind Speed at 10 meters (WSPD10M):
14 m/s
Wind Speed at 20 meters (WSPD20M):
15 m/s
Combined plot of Wind Speed, Gust, and Air Pressure
Continuous Winds
TIME
(EDT)
WDIR
WSPD
10:00 pm
NE ( 38 deg )
14.9 m/s
9:50 pm
NE ( 37 deg )
14.4 m/s
9:40 pm
NE ( 35 deg )
14.4 m/s
9:30 pm
NE ( 37 deg )
14.4 m/s
9:20 pm
NE ( 40 deg )
14.4 m/s
9:10 pm
NNE ( 30 deg )
13.4 m/s

Peak gust during the measurement hour

TIME
(EDT)
GDR
GST
9:50 pm
NE ( 40 deg )
17.5 m/s
Previous observations
TIME
(EDT)

WDIR


WSPD
m/s

GST
m/s

WVHT
m

DPD
sec

APD
sec

MWD


PRES
mb

PTDY
mb

ATMP
°C

WTMP
°C

DEWP
°C

SAL
psu

VIS
km

TIDE
m

2023-05-27

09:00 pm

NNE
13
15
-
-
-
-
1015.5
-1.5
17.6
-
-
-
-
-

2023-05-27

08:00 pm

NNE
13
15
-
-
-
-
1017.1
+0.5
17.5
-
-
-
-
-

2023-05-27

07:00 pm

NNE
16
18
-
-
-
-
1016.6
+0.0
17.4
-
-
-
-
-

2023-05-27

06:00 pm

NNE
16
18
-
-
-
-
1017.0
+0.0
17.4
-
-
-
-
-

2023-05-27

05:00 pm

NNE
15
17
-
-
-
-
1016.6
-0.5
17.4
-
-
-
-
-

2023-05-27

04:00 pm

NE
16
18
-
-
-
-
1016.7
-0.6
17.4
-
-
-
-
-

2023-05-27

03:00 pm

NE
15
17
-
-
-
-
1016.8
-0.5
17.5
-
-
-
-
-

2023-05-27

02:00 pm

NE
16
18
-
-
-
-
1017.1
-0.3
17.7
-
-
-
-
-

2023-05-27

01:00 pm

NE
16
18
-
-
-
-
1017.3
+0.0
17.9
-
-
-
-
-

2023-05-27

12:00 pm

NE
17
19
-
-
-
-
1017.3
+0.0
17.9
-
-
-
-
-

2023-05-27

11:00 am

NE
16
18
-
-
-
-
1017.4
+0.0
17.8
-
-
-
-
-

2023-05-27

10:00 am

NNE
13
15
-
-
-
-
1017.5
+0.0
17.2
-
-
-
-
-

2023-05-27

09:00 am

NNE
14
16
-
-
-
-
1017.4
+0.0
16.9
-
-
-
-
-

2023-05-27

08:00 am

NNE
14
16
-
-
-
-
1017.6
+0.6
17.1
-
-
-
-
-

2023-05-27

07:00 am

NE
15
18
-
-
-
-
1017.4
+0.7
17.5
-
-
-
-
-

2023-05-27

06:00 am

NE
13
15
-
-
-
-
1017.5
+0.4
17.3
-
-
-
-
-

2023-05-27

05:00 am

NNE
14
16
-
-
-
-
1017.0
-0.7
17.2
-
-
-
-
-

2023-05-27

04:00 am

NNE
15
18
-
-
-
-
1016.7
-1.5
17.2
-
-
-
-
-

2023-05-27

03:00 am

NNE
15
18
-
-
-
-
1017.1
-1.6
17.2
-
-
-
-
-

2023-05-27

02:00 am

NE
17
20
-
-
-
-
1017.7
-1.3
17.3
-
-
-
-
-

2023-05-27

01:00 am

NNE
15
18
-
-
-
-
1018.2
-0.9
17.2
-
-
-
-
-

2023-05-27

12:00 am

NNE
16
18
-
-
-
-
1018.7
+0.0
17.3
-
-
-
-
-

2023-05-26

11:00 pm

NNE
15
18
-
-
-
-
1019.0
+0.0
17.4
-
-
-
-
-

2023-05-26

10:00 pm

NNE
18
20
-
-
-
-
1019.1
+0.5
17.2
-
-
-
-
-
---
---