View the latest observations near Atlantic Tropical Depression Two.
Station 41008 (LLNR 833) - GRAYS REEF - 40 NM Southeast of Savannah, GA
Owned and maintained by National Data Buoy Center
3-meter discus buoy
ARES payload
31.400 N 80.866 W (31°24'0" N 80°51'59" W)

Site elevation: sea level
Air temp height: 4.4 m above site elevation
Anemometer height: 4.9 m above site elevation
Barometer elevation: 0.3 m above mean sea level
Sea temp depth: 0.6 m below water line
Water depth: 16 m
Watch circle radius: 69 yards

This buoy is located in Gray's Reef National Marine Sanctuary
The southern third of NOAA's 22-square mile Gray's Reef National Marine Sanctuary has been designated a research area specifically designed for conducting controlled scientific studies where human activities cannot affect the results. Fishing and diving will be prohibited in the lightly used, 8-square mile research area. Vessels are permitted to travel through it without stopping. For complete information, go to the Gray's Reef website at Gray's Reef Research Area
LINK TO PMEL's pCO2 SITE for their data on this Station:
http://www.pmel.noaa.gov/co2/story/Grays+Reef
Right whales are active off GA from November to April. Speed restrictions of 10 knots apply to vessels 65 feet or greater within the vicinity of this station between November 15 and April 15. It is illegal to approach right whales within 500 yards. To learn more about right whales and rules protecting them, go to:
http://www.nmfs.noaa.gov/pr/shipstrike
.
Meteorological Observations from Nearby Stations and Ships

Large icon indicates selected station.
Stations with recent data

Stations with no data in last 8 hours
(24 hours for tsunami stations)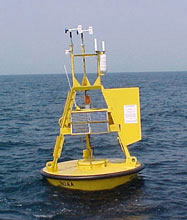 Buoy Camera Photos taken at 06/02/2023 0010 UTC. Click photo to enlarge.
Photos are generally taken hourly during daylight operations.
---
Conditions at 41008 as of
(9:50 pm EDT on 06/01/2023)
0150 GMT on 06/02/2023:

Click on the graph icon in the table below to see a time series plot of the last five days of that observation.

Wind Direction (WDIR):
NE ( 50 deg true )
Wind Speed (WSPD):
3.0 m/s
Wind Gust (GST):
4.0 m/s
Wave Height (WVHT):
1.0 m
Dominant Wave Period (DPD):
6 sec
Average Period (APD):
4.9 sec
Mean Wave Direction (MWD):
ESE ( 102 deg true )
Atmospheric Pressure (PRES):
1013.0 mb
Pressure Tendency (PTDY):
+0.8 mb ( Rising )
Water Temperature (WTMP):
22.8 °C
Wind Speed at 10 meters (WSPD10M):
3 m/s
Wind Speed at 20 meters (WSPD20M):
3 m/s
Combined plot of Wind Speed, Gust, and Air Pressure
Continuous Winds
TIME
(EDT)
WDIR
WSPD
9:50 pm
NE ( 49 deg )
2.9 m/s
9:40 pm
NE ( 54 deg )
3.0 m/s
9:30 pm
NE ( 50 deg )
2.4 m/s
9:20 pm
NE ( 47 deg )
2.6 m/s
9:10 pm
ENE ( 59 deg )
2.8 m/s
9:00 pm
NE ( 53 deg )
3.1 m/s

Supplemental Measurements

Peak gust during the measurement hour

TIME
(EDT)
GDR
GST
9:34 pm
ENE ( 60 deg )
4.0 m/s
Previous observations
TIME
(EDT)

WDIR


WSPD
m/s

GST
m/s

WVHT
m

DPD
sec

APD
sec

MWD


PRES
mb

PTDY
mb

ATMP
°C

WTMP
°C

DEWP
°C

SAL
psu

VIS
km

TIDE
m

2023-06-01

08:50 pm

NE
3.0
4.0
1.1
5
4.8
ENE
1012.9
+0.4
-
22.8
-
-
-
-

2023-06-01

07:50 pm

NE
4.0
5.0
1.1
5
4.7
E
1012.6
-0.4
-
22.8
-
-
-
-

2023-06-01

06:50 pm

ENE
6.0
7.0
1.2
5
4.8
ENE
1012.2
-1.2
-
22.8
-
-
-
-

2023-06-01

05:50 pm

ENE
7.0
8.0
1.4
6
4.6
ENE
1012.5
-1.8
-
22.8
-
-
-
-

2023-06-01

04:50 pm

ENE
8.0
9.0
1.2
6
4.4
ENE
1013.0
-1.7
-
22.8
-
-
-
-

2023-06-01

03:50 pm

NE
9.0
10.0
1.4
5
4.5
ENE
1013.4
-1.4
-
22.8
-
-
-
-

2023-06-01

02:50 pm

NE
8.0
9.0
1.3
5
4.4
ENE
1014.3
+0.0
-
22.8
-
-
-
-

2023-06-01

01:50 pm

NE
8.0
10.0
1.4
6
4.5
E
1014.7
+0.5
-
22.8
-
-
-
-

2023-06-01

12:50 pm

NE
9.0
10.0
1.4
6
4.5
ENE
1014.8
+0.3
-
22.8
-
-
-
-

2023-06-01

11:50 am

NE
10.0
12.0
1.4
6
4.5
ENE
1014.4
+0.0
-
22.8
-
-
-
-

2023-06-01

10:50 am

NE
9.0
11.0
1.3
5
4.4
ENE
1014.2
+0.3
-
22.8
-
-
-
-

2023-06-01

09:50 am

NE
9.0
10.0
1.3
5
4.4
ENE
1014.5
+1.0
-
22.8
-
-
-
-

2023-06-01

08:50 am

NE
9.0
10.0
1.1
5
4.3
ENE
1014.3
+1.1
-
22.9
-
-
-
-

2023-06-01

07:50 am

NE
8.0
10.0
1.1
5
4.4
ENE
1013.9
+0.7
-
22.9
-
-
-
-

2023-06-01

06:50 am

NE
7.0
9.0
1.0
5
4.4
ENE
1013.5
+0.4
-
22.9
-
-
-
-

2023-06-01

05:50 am

ENE
6.0
8.0
1.0
5
4.4
ENE
1013.2
+0.0
-
22.9
-
-
-
-

2023-06-01

04:50 am

ENE
7.0
8.0
1.1
6
4.2
ENE
1013.2
-0.8
-
22.9
-
-
-
-

2023-06-01

03:50 am

ENE
7.0
9.0
1.1
5
4.2
ENE
1013.1
-1.8
-
22.9
-
-
-
-

2023-06-01

02:50 am

ENE
7.0
8.0
1.2
6
4.2
NE
1013.4
-1.8
-
22.8
-
-
-
-

2023-06-01

01:50 am

ENE
8.0
10.0
1.1
6
4.3
ENE
1014.0
-1.6
-
22.8
-
-
-
-

2023-06-01

12:50 am

ENE
7.0
8.0
1.1
6
4.3
ENE
1014.9
+0.0
-
22.8
-
-
-
-

2023-05-31

11:50 pm

ENE
7.0
8.0
1.1
6
4.4
ENE
1015.2
+0.0
-
22.8
-
-
-
-

2023-05-31

10:50 pm

ENE
8.0
9.0
1.2
6
4.5
ENE
1015.6
+0.8
-
22.9
-
-
-
-

2023-05-31

09:50 pm

ENE
8.0
10.0
1.2
6
4.3
ENE
1015.1
+0.0
-
22.9
-
-
-
-
---
Detailed Wave Summary
for 41008 as of
(10:00 pm EDT on 06/01/2023)
0200 GMT on 06/02/2023:

These wave data are displayed in rounded times.

Click on the graph icon in the table below to see a time series plot of the last five days of that observation.

Significant Wave Height (WVHT):
1.0 m
Swell Height (SwH):
0.9 m
Swell Period (SwP):
5.9 sec
Swell Direction (SwD):
ESE
Wind Wave Height (WWH):
0.4 m
Wind Wave Period (WWP):
3.8 sec
Wind Wave Direction (WWD):
E
Wave Steepness (STEEPNESS):
STEEP
Average Wave Period (APD):
4.9 sec
Previous observations
TIME
(EDT)

WVHT
m

SwH
m

SwP
sec

SwD


WWH
m

WWP
sec

WWD


STEEPNESS


APD
sec

2023-06-01

09:00 pm

1.1
1.0
5.3
ENE
0.5
3.7
ENE
VERY_STEEP
4.8

2023-06-01

08:00 pm

1.1
1.0
5.0
E
0.5
3.7
ENE
VERY_STEEP
4.7

2023-06-01

07:00 pm

1.2
1.0
5.3
ENE
0.8
4.3
ENE
VERY_STEEP
4.8

2023-06-01

06:00 pm

1.4
0.6
7.7
E
1.2
5.9
ENE
STEEP
4.6

2023-06-01

05:00 pm

1.2
0.4
7.7
E
1.1
5.6
ENE
VERY_STEEP
4.4

2023-06-01

04:00 pm

1.4
0.3
8.3
ENE
1.3
5.0
ENE
VERY_STEEP
4.5

2023-06-01

03:00 pm

1.3
0.5
9.1
E
1.3
4.8
ENE
VERY_STEEP
4.4

2023-06-01

02:00 pm

1.4
0.4
9.1
NE
1.3
5.9
E
VERY_STEEP
4.5

2023-06-01

01:00 pm

1.4
0.5
8.3
E
1.3
5.6
ENE
VERY_STEEP
4.5

2023-06-01

12:00 pm

1.4
0.4
13.8
W
1.3
5.6
ENE
VERY_STEEP
4.5

2023-06-01

11:00 am

1.3
0.3
10.0
NE
1.2
5.3
ENE
VERY_STEEP
4.4

2023-06-01

10:00 am

1.3
0.4
9.1
ENE
1.2
5.0
ENE
VERY_STEEP
4.4

2023-06-01

09:00 am

1.1
0.4
7.7
ESE
1.1
5.0
ENE
VERY_STEEP
4.3

2023-06-01

08:00 am

1.1
0.4
8.3
E
1.0
5.3
ENE
VERY_STEEP
4.4

2023-06-01

07:00 am

1.0
0.5
6.7
E
0.9
4.8
ENE
VERY_STEEP
4.4

2023-06-01

06:00 am

1.0
0.5
6.2
E
0.9
4.5
ENE
VERY_STEEP
4.4

2023-06-01

05:00 am

1.1
0.4
12.9
SW
1.0
5.6
ENE
STEEP
4.2

2023-06-01

04:00 am

1.1
0.5
13.8
WSW
1.0
5.3
ENE
VERY_STEEP
4.2

2023-06-01

03:00 am

1.2
0.3
10.0
E
1.1
5.6
NE
STEEP
4.2

2023-06-01

02:00 am

1.1
0.4
7.1
E
1.1
5.6
ENE
STEEP
4.3

2023-06-01

01:00 am

1.1
0.4
7.7
ESE
1.0
5.9
ENE
STEEP
4.3

2023-06-01

12:00 am

1.1
0.3
10.8
ESE
1.1
5.9
ENE
STEEP
4.4

2023-05-31

11:00 pm

1.2
0.3
13.8
SSE
1.2
5.6
ENE
VERY_STEEP
4.5

2023-05-31

10:00 pm

1.2
0.3
10.8
SW
1.2
6.2
ENE
STEEP
4.3
---
---