View the latest observations near Atlantic Tropical Depression Two.
Station 46121 - Carr Inlet, WA (U of Wash)
Owned and maintained by University of Washington
Buoy
47.280 N 122.730 W (47°16'48" N 122°43'48" W)

Site elevation: sea level
Air temp height: 2.1 m above site elevation
Anemometer height: 2.1 m above site elevation
Barometer elevation: 1 m above mean sea level
Sea temp depth: 3 m below water line
Water depth: 47 m

Meteorological Observations from Nearby Stations and Ships

Large icon indicates selected station.
Stations with recent data

Stations with no data in last 8 hours
(24 hours for tsunami stations)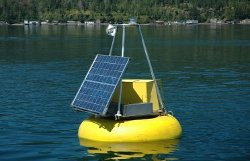 ---
No Recent Reports
---
Links which are specific to this station are listed below:
Data for last 45 days: No data available.
Some data files have been compressed with the GNU gzip program.
---