Station 44008 (LLNR 827) - NANTUCKET 54 NM Southeast of Nantucket
Nantucket Shoals LB "N"
Owned and maintained by National Data Buoy Center
3-meter discus buoy
SCOOP payload
40.496 N 69.250 W (40°29'44" N 69°15'1" W)

Site elevation: sea level
Air temp height: 3.4 m above site elevation
Anemometer height: 3.8 m above site elevation
Barometer elevation: 2.4 m above mean sea level
Sea temp depth: 2 m below water line
Water depth: 72 m
Watch circle radius: 142 yards

Caution: Right whales may be active in northeast waters year-round. Mandatory speed restrictions of 10 knots apply to vessels 65 feet or greater in specific areas and times along the US east coast. Voluntary speed restrictions may be in effect in other areas and times. For current information on speed-restricted areas, go to: http://www.nmfs.noaa.gov/pr/shipstrike
Meteorological Observations from Nearby Stations and Ships

Large icon indicates selected station.
Stations with recent data

Stations with no data in last 8 hours
(24 hours for tsunami stations)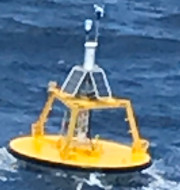 Buoy Camera Photos taken at 06/05/2023 1910 UTC. Click photo to enlarge.
Photos are generally taken hourly during daylight operations.
---
Conditions at 44008 as of
(4:00 pm EDT)
2000 GMT on 06/05/2023:

Click on the graph icon in the table below to see a time series plot of the last five days of that observation.

Wind Direction (WDIR):
NNW ( 330 deg true )
Wind Speed (WSPD):
9.0 m/s
Wind Gust (GST):
12.0 m/s
Atmospheric Pressure (PRES):
1007.8 mb
Pressure Tendency (PTDY):
+0.3 mb ( Rising )
Air Temperature (ATMP):
10.7 °C
Dew Point (DEWP):
9.0 °C
Wind Chill (CHILL):
7.3 °C
Wind Speed at 10 meters (WSPD10M):
10 m/s
Wind Speed at 20 meters (WSPD20M):
11 m/s
Combined plot of Wind Speed, Gust, and Air Pressure
Supplemental Measurements
Highest 1-minute Wind Speed
Time (EDT)
WSPD
WDIR
3:51 pm
10 m/s
-
Previous observations
TIME
(EDT)

WDIR


WSPD
m/s

GST
m/s

WVHT
m

DPD
sec

APD
sec

MWD


PRES
mb

PTDY
mb

ATMP
°C

WTMP
°C

DEWP
°C

SAL
psu

VIS
km

TIDE
m

2023-06-05

03:50 pm

NW
9.0
12.0
2.0
9
5.6
NE
1007.0
-
-
11.1
-
-
-
-

2023-06-05

03:40 pm

NW
9.0
11.0
-
-
-
-
1006.9
-
10.6
11.1
9.1
-
-
-

2023-06-05

03:30 pm

NW
8.0
10.0
-
-
-
-
1006.9
-
10.6
11.2
9.1
-
-
-

2023-06-05

03:20 pm

NW
8.0
10.0
2.0
9
5.4
ENE
1006.8
-
10.6
11.3
9.0
-
-
-

2023-06-05

03:10 pm

NW
9.0
11.0
2.0
-
5.4
ENE
1006.8
-
10.6
11.3
8.9
-
-
-

2023-06-05

03:00 pm

NW
9.0
10.0
-
-
-
-
1006.8
+0.0
10.6
11.4
9.0
-
-
-

2023-06-05

02:50 pm

NW
9.0
11.0
2.1
8
5.6
NE
1006.8
-
10.6
11.5
9.1
-
-
-

2023-06-05

02:40 pm

NW
9.0
11.0
-
-
-
-
1006.7
-
-
-
-
-
-
-

2023-06-05

02:30 pm

NW
9.0
11.0
-
-
-
-
1006.7
-
10.6
11.5
9.0
-
-
-

2023-06-05

02:20 pm

NW
9.0
11.0
2.1
9
5.5
ENE
1006.7
-
10.5
11.5
9.0
-
-
-

2023-06-05

02:10 pm

NW
9.0
11.0
2.1
-
5.5
ENE
1006.7
-
10.5
11.5
9.1
-
-
-

2023-06-05

02:00 pm

NW
9.0
11.0
-
-
-
-
1006.6
-0.3
10.4
11.5
9.4
-
-
-

2023-06-05

01:50 pm

NW
9.0
11.0
2.1
9
5.8
ENE
1006.7
-
10.3
11.5
9.6
-
-
-

2023-06-05

01:40 pm

NW
9.0
11.0
-
-
-
-
1006.6
-
10.3
11.5
9.7
-
-
-

2023-06-05

01:30 pm

NW
9.0
12.0
-
-
-
-
1006.7
-
10.4
11.5
9.7
-
-
-

2023-06-05

01:20 pm

NW
9.0
11.0
2.0
9
5.7
NE
1006.8
-
10.4
11.4
9.7
-
-
-

2023-06-05

01:10 pm

NW
9.0
12.0
2.0
-
5.7
NE
1006.7
-
10.4
11.4
9.7
-
-
-

2023-06-05

01:00 pm

NW
9.0
11.0
-
-
-
-
1006.8
-0.6
10.4
11.4
9.6
-
-
-

2023-06-05

12:50 pm

NW
9.0
12.0
2.0
9
5.8
ENE
1006.7
-
10.4
11.4
9.6
-
-
-

2023-06-05

12:40 pm

NW
9.0
12.0
2.0
-
5.8
ENE
1006.7
-
10.3
11.4
9.7
-
-
-

2023-06-05

12:30 pm

NW
10.0
13.0
-
-
-
-
1006.7
-
10.3
11.4
9.8
-
-
-

2023-06-05

12:20 pm

NW
10.0
12.0
1.9
9
5.6
NE
1006.8
-
10.3
11.4
9.8
-
-
-

2023-06-05

12:10 pm

NW
10.0
12.0
1.9
-
5.6
NE
1006.8
-
10.2
11.4
9.8
-
-
-

2023-06-05

12:00 pm

NW
10.0
12.0
-
-
-
-
1006.8
-0.9
10.2
11.4
9.9
-
-
-

2023-06-05

11:50 am

NW
9.0
12.0
1.9
9
6.0
ENE
1006.9
-
10.2
11.4
10.0
-
-
-

2023-06-05

11:40 am

NW
10.0
12.0
-
-
-
-
1007.0
-
10.1
11.4
9.8
-
-
-

2023-06-05

11:30 am

NW
10.0
12.0
-
-
-
-
1006.9
-
10.2
11.4
9.9
-
-
-

2023-06-05

11:20 am

NW
10.0
13.0
2.0
9
6.5
NE
1007.0
-
10.2
11.4
9.9
-
-
-

2023-06-05

11:10 am

NW
10.0
12.0
2.0
-
6.5
NE
1007.0
-
10.2
11.4
10.0
-
-
-

2023-06-05

11:00 am

NW
10.0
13.0
-
-
-
-
1007.0
-0.5
10.0
11.4
10.0
-
-
-

2023-06-05

10:50 am

NW
9.0
11.0
1.9
9
6.2
ENE
1007.1
-
10.1
11.3
10.1
-
-
-

2023-06-05

10:40 am

NW
9.0
12.0
-
-
-
-
1007.1
-
10.0
11.3
10.0
-
-
-

2023-06-05

10:30 am

NW
9.0
11.0
-
-
-
-
1007.2
-
10.0
11.3
-
-
-
-

2023-06-05

10:20 am

NW
8.0
10.0
1.8
9
6.3
NNE
1007.3
-
9.9
11.1
9.9
-
-
-

2023-06-05

10:10 am

NW
8.0
11.0
1.8
-
6.3
NNE
1007.3
-
9.9
11.0
9.8
-
-
-

2023-06-05

10:00 am

NW
8.0
10.0
-
-
-
-
1007.4
+0.0
9.9
11.0
9.8
-
-
-

2023-06-05

09:50 am

NW
8.0
10.0
1.8
9
6.2
ENE
1007.4
-
9.9
11.0
9.8
-
-
-

2023-06-05

09:40 am

NW
8.0
10.0
1.8
-
6.2
ENE
1007.4
-
9.8
11.0
9.7
-
-
-

2023-06-05

09:30 am

NW
8.0
9.0
-
-
-
-
1007.4
-
9.8
11.0
9.7
-
-
-

2023-06-05

09:20 am

NW
8.0
9.0
1.8
9
6.2
NE
1007.4
-
9.8
11.0
9.6
-
-
-

2023-06-05

09:10 am

NW
8.0
9.0
-
-
-
-
1007.5
-
9.8
11.0
9.4
-
-
-

2023-06-05

09:00 am

NW
7.0
9.0
-
-
-
-
1007.5
+0.5
9.8
11.0
9.4
-
-
-

2023-06-05

08:50 am

NW
7.0
9.0
2.0
8
6.2
ENE
1007.5
-
9.8
11.0
9.6
-
-
-

2023-06-05

08:40 am

NNW
8.0
10.0
2.0
-
6.2
ENE
1007.5
-
9.8
11.0
9.6
-
-
-

2023-06-05

08:30 am

NNW
7.0
9.0
-
-
-
-
1007.5
-
9.7
10.9
9.5
-
-
-

2023-06-05

08:20 am

NNW
7.0
10.0
1.8
9
6.0
NE
1007.4
-
9.7
10.9
9.6
-
-
-

2023-06-05

08:10 am

NNW
8.0
10.0
1.8
-
6.0
NE
1007.3
-
9.7
10.8
9.5
-
-
-

2023-06-05

08:00 am

NNW
7.0
10.0
-
-
-
-
1007.4
+0.7
9.8
10.8
9.7
-
-
-

2023-06-05

07:50 am

NNW
8.0
10.0
1.9
8
6.0
ENE
1007.4
-
9.8
10.8
9.5
-
-
-

2023-06-05

07:40 am

NNW
8.0
10.0
-
-
-
-
1007.3
-
9.9
10.9
9.4
-
-
-

2023-06-05

07:30 am

NNW
7.0
9.0
-
-
-
-
1007.2
-
9.9
10.8
9.4
-
-
-

2023-06-05

07:20 am

NNW
7.0
9.0
2.1
8
6.3
NE
1007.2
-
9.9
10.9
9.4
-
-
-

2023-06-05

07:10 am

NNW
7.0
9.0
2.1
-
6.3
NE
1007.2
-
9.8
11.0
9.6
-
-
-

2023-06-05

07:00 am

NNW
7.0
9.0
-
-
-
-
1007.3
+0.0
9.8
11.0
9.5
-
-
-

2023-06-05

06:50 am

NNW
7.0
9.0
2.1
8
6.4
NE
1007.2
-
9.8
10.9
9.5
-
-
-

2023-06-05

06:40 am

NNW
7.0
9.0
-
-
-
-
1007.1
-
9.9
-
9.5
-
-
-

2023-06-05

06:30 am

NNW
7.0
9.0
-
-
-
-
1007.1
-
9.8
11.0
9.4
-
-
-

2023-06-05

06:20 am

NNW
8.0
10.0
2.2
9
6.3
ENE
1007.2
-
9.7
11.0
9.4
-
-
-

2023-06-05

06:10 am

NNW
7.0
10.0
2.2
-
6.3
ENE
1007.1
-
9.7
11.1
9.4
-
-
-

2023-06-05

06:00 am

NNW
8.0
9.0
-
-
-
-
1007.1
+0.0
9.8
11.1
9.3
-
-
-

2023-06-05

05:50 am

NNW
8.0
10.0
1.8
8
5.7
NE
1007.0
-
9.8
11.2
9.2
-
-
-

2023-06-05

05:40 am

NNW
8.0
10.0
-
-
-
-
1007.0
-
9.6
11.1
9.3
-
-
-

2023-06-05

05:30 am

NNW
9.0
11.0
-
-
-
-
1006.9
-
9.7
11.1
9.3
-
-
-

2023-06-05

05:20 am

NNW
8.0
12.0
2.1
7
5.7
NE
1006.8
-
9.8
11.1
9.1
-
-
-

2023-06-05

05:10 am

NNW
8.0
10.0
-
-
-
-
1007.0
-
9.8
11.1
9.1
-
-
-

2023-06-05

05:00 am

NNW
9.0
11.0
-
-
-
-
1006.9
-0.9
9.7
11.1
8.9
-
-
-

2023-06-05

04:50 am

NNW
9.0
11.0
2.3
8
5.9
NE
1006.9
-
9.7
11.1
8.9
-
-
-

2023-06-05

04:40 am

NNW
9.0
10.0
-
-
-
-
1007.0
-
9.7
11.2
8.8
-
-
-

2023-06-05

04:30 am

NNW
9.0
11.0
-
-
-
-
1007.0
-
9.8
11.3
9.0
-
-
-

2023-06-05

04:20 am

NNW
8.0
10.0
2.1
8
5.5
NNE
1007.0
-
9.6
11.3
9.1
-
-
-

2023-06-05

04:10 am

NNW
9.0
11.0
2.1
-
5.5
NNE
1007.0
-
9.6
11.4
9.3
-
-
-

2023-06-05

04:00 am

NNW
8.0
10.0
-
-
-
-
1007.0
-1.2
9.5
11.6
9.3
-
-
-

2023-06-05

03:50 am

NNW
9.0
11.0
2.4
8
5.9
NNE
1007.1
-
9.6
11.6
9.3
-
-
-

2023-06-05

03:40 am

NNW
9.0
11.0
-
-
-
-
1007.0
-
9.6
11.6
9.3
-
-
-

2023-06-05

03:30 am

N
8.0
10.0
-
-
-
-
1007.2
-
9.6
11.6
9.4
-
-
-

2023-06-05

03:20 am

NNW
8.0
10.0
2.1
-
5.6
NNE
1007.3
-
-
-
-
-
-
-

2023-06-05

03:10 am

N
8.0
10.0
2.1
-
5.6
NNE
1007.3
-
-
-
-
-
-
-

2023-06-05

03:00 am

N
8.0
10.0
-
-
-
-
1007.3
-1.9
9.7
11.8
9.5
-
-
-

2023-06-05

02:50 am

N
8.0
10.0
2.1
8
5.5
NE
1007.3
-
9.7
11.9
9.6
-
-
-

2023-06-05

02:40 am

N
8.0
10.0
2.1
-
5.5
NE
1007.4
-
9.8
11.9
9.7
-
-
-

2023-06-05

02:30 am

N
9.0
11.0
-
-
-
-
1007.4
-
-
-
-
-
-
-

2023-06-05

02:20 am

N
9.0
11.0
1.9
7
5.2
NNE
1007.5
-
9.7
12.0
9.6
-
-
-

2023-06-05

02:10 am

NNW
8.0
12.0
1.9
-
5.2
NNE
1007.6
-
9.8
12.0
9.8
-
-
-

2023-06-05

02:00 am

NNW
9.0
11.0
-
-
-
-
1007.7
-2.0
9.8
12.0
9.6
-
-
-

2023-06-05

01:50 am

NNW
9.0
12.0
1.8
8
5.4
NE
1007.8
-
9.8
12.1
9.8
-
-
-

2023-06-05

01:40 am

NNW
10.0
12.0
-
-
-
-
1007.8
-
9.8
12.1
9.7
-
-
-

2023-06-05

01:30 am

NNW
9.0
12.0
-
-
-
-
1007.8
-
9.9
12.1
9.7
-
-
-

2023-06-05

01:20 am

NNW
9.0
11.0
1.6
9
5.0
NE
1008.1
-
9.9
12.1
9.7
-
-
-

2023-06-05

01:10 am

NNW
9.0
11.0
1.6
-
5.0
NE
1008.3
-
9.9
12.1
9.7
-
-
-

2023-06-05

01:00 am

NNW
9.0
11.0
-
-
-
-
1008.4
-1.6
10.0
12.1
9.6
-
-
-

2023-06-05

12:50 am

NNW
9.0
10.0
1.7
8
5.3
NE
1008.5
-
9.9
12.0
9.5
-
-
-

2023-06-05

12:40 am

NNW
9.0
10.0
-
-
-
-
1008.6
-
9.9
12.0
9.6
-
-
-

2023-06-05

12:30 am

NNW
9.0
10.0
-
-
-
-
1008.8
-
9.9
12.0
9.7
-
-
-

2023-06-05

12:20 am

NNW
8.0
10.0
1.6
8
5.1
ENE
1009.0
-
10.0
12.0
9.6
-
-
-

2023-06-05

12:10 am

NNW
8.0
10.0
1.6
-
5.1
ENE
1009.1
-
10.0
12.0
9.6
-
-
-

2023-06-05

12:00 am

NNW
8.0
10.0
-
-
-
-
1009.1
-0.6
10.0
12.0
9.7
-
-
-

2023-06-04

11:50 pm

NNW
8.0
10.0
1.7
8
5.2
NE
1009.1
-
9.9
12.0
9.8
-
-
-

2023-06-04

11:40 pm

NNW
9.0
10.0
-
-
-
-
1009.2
-
9.9
12.0
9.9
-
-
-

2023-06-04

11:30 pm

NNW
9.0
11.0
-
-
-
-
1009.3
-
9.9
12.0
9.9
-
-
-

2023-06-04

11:20 pm

NNW
9.0
11.0
1.7
8
5.3
NE
1009.5
-
10.0
12.0
-
-
-
-

2023-06-04

11:10 pm

NNW
8.0
11.0
1.7
-
5.3
NE
1009.7
-
10.0
12.0
-
-
-
-

2023-06-04

11:00 pm

NNW
9.0
11.0
-
-
-
-
1009.7
+0.0
10.0
12.0
-
-
-
-

2023-06-04

10:50 pm

NW
9.0
11.0
1.6
8
5.4
NE
1009.5
-
10.1
12.1
-
-
-
-

2023-06-04

10:40 pm

NW
9.0
11.0
-
-
-
-
1009.5
-
10.2
12.0
-
-
-
-

2023-06-04

10:30 pm

NNW
9.0
11.0
-
-
-
-
1009.5
-
10.2
12.1
-
-
-
-

2023-06-04

10:20 pm

NNW
9.0
11.0
1.4
8
5.2
NNE
1009.6
-
10.2
12.1
-
-
-
-

2023-06-04

10:10 pm

NNW
8.0
10.0
1.4
-
5.2
NNE
1009.7
-
10.2
12.1
-
-
-
-

2023-06-04

10:00 pm

NNW
8.0
10.0
-
-
-
-
1009.8
-0.4
10.3
12.1
-
-
-
-

2023-06-04

09:50 pm

NNW
9.0
11.0
1.4
7
5.4
NNE
1009.8
-
10.4
12.1
-
-
-
-

2023-06-04

09:40 pm

NNW
8.0
10.0
1.4
-
5.4
NNE
1009.8
-
10.5
12.1
-
-
-
-

2023-06-04

09:30 pm

NNW
8.0
10.0
-
-
-
-
1010.0
-
10.4
12.1
-
-
-
-

2023-06-04

09:20 pm

NNW
8.0
10.0
1.5
8
5.6
NNE
1009.7
-
-
12.0
-
-
-
-

2023-06-04

09:10 pm

NNW
8.0
10.0
-
-
-
-
1009.7
-
10.7
12.0
10.7
-
-
-

2023-06-04

09:00 pm

NNW
7.0
9.0
-
-
-
-
1009.7
-0.6
10.7
12.0
10.7
-
-
-

2023-06-04

08:50 pm

NW
7.0
8.0
1.5
8
5.7
NNE
1009.6
-
10.8
12.0
10.8
-
-
-

2023-06-04

08:40 pm

NW
6.0
8.0
-
-
-
-
1009.7
-
10.8
11.9
10.6
-
-
-

2023-06-04

08:30 pm

NW
6.0
8.0
-
-
-
-
1009.7
-
10.8
11.9
10.5
-
-
-

2023-06-04

08:20 pm

NW
6.0
8.0
1.5
-
5.4
NNE
1009.7
-
-
11.9
-
-
-
-

2023-06-04

08:10 pm

NW
6.0
8.0
1.5
-
5.4
NNE
1009.7
-
10.7
11.9
10.4
-
-
-

2023-06-04

08:00 pm

NW
6.0
8.0
-
-
-
-
1009.8
-0.8
10.7
11.8
10.4
-
-
-

2023-06-04

07:50 pm

NW
6.0
8.0
1.6
8
5.4
NNE
1009.9
-
10.5
11.8
10.3
-
-
-

2023-06-04

07:40 pm

NNW
7.0
9.0
-
-
-
-
1009.7
-
10.4
11.8
10.4
-
-
-

2023-06-04

07:20 pm

NW
7.0
8.0
1.7
8
5.3
NNE
1010.1
-
10.5
11.8
10.2
-
-
-

2023-06-04

07:10 pm

NW
7.0
9.0
1.7
-
5.3
NNE
1010.1
-
10.5
11.8
9.9
-
-
-

2023-06-04

07:00 pm

NW
7.0
9.0
-
-
-
-
1010.1
-0.6
10.6
11.8
9.5
-
-
-

2023-06-04

06:50 pm

NW
7.0
9.0
1.8
8
5.4
NNE
1010.2
-
10.6
11.8
9.4
-
-
-

2023-06-04

06:40 pm

NW
7.0
9.0
-
-
-
-
1010.2
-
10.6
11.8
9.5
-
-
-

2023-06-04

06:30 pm

NW
8.0
10.0
-
-
-
-
1010.3
-
10.6
11.8
9.3
-
-
-

2023-06-04

06:20 pm

NW
8.0
10.0
1.9
7
5.2
NNE
1010.2
-
10.5
11.7
9.4
-
-
-

2023-06-04

06:10 pm

NNW
8.0
10.0
1.9
-
5.2
NNE
1010.3
-
10.5
11.7
9.5
-
-
-

2023-06-04

06:00 pm

NW
9.0
11.0
-
-
-
-
1010.3
-1.1
10.4
11.7
9.4
-
-
-

2023-06-04

05:50 pm

NW
8.0
10.0
2.1
8
5.4
NNE
1010.4
-
10.4
11.7
9.7
-
-
-

2023-06-04

05:40 pm

NW
9.0
12.0
-
-
-
-
1010.4
-
10.4
11.7
9.4
-
-
-

2023-06-04

05:30 pm

NNW
9.0
11.0
-
-
-
-
1010.5
-
10.4
11.7
9.0
-
-
-

2023-06-04

05:20 pm

NW
9.0
12.0
2.1
8
5.2
NNE
1010.5
-
10.4
11.7
8.9
-
-
-

2023-06-04

05:10 pm

NNW
9.0
12.0
2.1
-
5.2
NNE
1010.6
-
10.3
11.7
8.8
-
-
-

2023-06-04

05:00 pm

NNW
10.0
11.0
-
-
-
-
1010.8
-1.0
10.3
11.8
8.8
-
-
-

2023-06-04

04:50 pm

NW
10.0
13.0
2.3
8
5.5
NNE
1010.8
-
10.2
11.8
8.6
-
-
-

2023-06-04

04:40 pm

NNW
10.0
12.0
-
-
-
-
1010.8
-
10.1
11.9
8.8
-
-
-

2023-06-04

04:30 pm

NNW
10.0
12.0
-
-
-
-
1010.8
-
10.2
12.1
8.7
-
-
-

2023-06-04

04:20 pm

NNW
10.0
13.0
2.2
8
5.5
NNE
1010.8
-
10.1
12.1
8.5
-
-
-

2023-06-04

04:10 pm

NNW
10.0
13.0
2.2
-
5.5
NNE
1010.8
-
10.1
12.1
8.6
-
-
-

2023-06-04

04:00 pm

NW
10.0
12.0
-
-
-
-
1010.9
-1.2
-
12.0
-
-
-
-

2023-06-04

03:50 pm

NW
10.0
13.0
2.2
8
5.4
NNE
1011.1
-
10.1
12.1
8.6
-
-
-
---
Detailed Wave Summary
for 44008 as of (3:40 pm EDT)
1940 GMT on 06/05/2023:


These wave data are displayed in rounded times.

Click on the graph icon in the table below to see a time series plot of the last five days of that observation.

Significant Wave Height (WVHT):
2.0 m
Swell Height (SwH):
1.3 m
Swell Period (SwP):
9.1 sec
Swell Direction (SwD):
NE
Wind Wave Height (WWH):
1.5 m
Wind Wave Period (WWP):
6.7 sec
Wind Wave Direction (WWD):
NNE
Wave Steepness (STEEPNESS):
AVERAGE
Average Wave Period (APD):
5.6 sec
Previous observations
TIME
(EDT)

WVHT
m

SwH
m

SwP
sec

SwD


WWH
m

WWP
sec

WWD


STEEPNESS


APD
sec

2023-06-05

03:10 pm

2.0
1.2
9.1
ENE
1.6
6.7
NNE
AVERAGE
5.4

2023-06-05

02:40 pm

2.1
1.4
8.3
NE
1.5
7.1
NNE
AVERAGE
5.6

2023-06-05

02:10 pm

2.1
1.2
9.1
ENE
1.7
7.7
NNE
AVERAGE
5.5

2023-06-05

01:40 pm

2.1
1.4
9.1
ENE
1.5
4.8
NNW
AVERAGE
5.8

2023-06-05

01:10 pm

2.0
1.3
9.1
NE
1.5
7.7
NNE
AVERAGE
5.7

2023-06-05

12:40 pm

2.0
1.4
9.1
ENE
1.4
4.8
NNW
AVERAGE
5.8

2023-06-05

12:10 pm

1.9
1.1
9.1
NE
1.5
7.1
NNE
AVERAGE
5.6

2023-06-05

11:40 am

1.9
1.4
9.1
ENE
1.3
6.7
NNE
AVERAGE
6.0

2023-06-05

11:10 am

2.0
1.6
9.1
NE
1.2
5.9
N
AVERAGE
6.5

2023-06-05

10:40 am

1.9
1.3
9.1
ENE
1.4
7.1
NNE
AVERAGE
6.2

2023-06-05

10:10 am

1.8
1.4
9.1
NNE
1.1
5.3
N
AVERAGE
6.3

2023-06-05

09:40 am

1.8
1.4
9.1
ENE
1.2
5.9
NNE
AVERAGE
6.2

2023-06-05

09:10 am

1.8
1.4
9.1
NE
1.1
6.7
NE
AVERAGE
6.2

2023-06-05

08:40 am

2.0
1.5
8.3
ENE
1.2
6.2
NNE
AVERAGE
6.2

2023-06-05

08:10 am

1.8
1.2
9.1
NE
1.4
7.1
NNE
AVERAGE
6.0

2023-06-05

07:40 am

1.9
1.4
8.3
ENE
1.3
6.7
NE
AVERAGE
6.0

2023-06-05

07:10 am

2.1
1.7
8.3
NE
1.2
6.2
NE
AVERAGE
6.3

2023-06-05

06:40 am

2.1
1.8
8.3
NE
1.1
5.9
NNE
AVERAGE
6.4

2023-06-05

06:10 am

2.2
1.8
9.1
ENE
1.2
6.2
NE
AVERAGE
6.3

2023-06-05

05:40 am

1.8
1.2
8.3
NE
1.3
6.7
NNE
AVERAGE
5.7

2023-06-05

05:10 am

2.1
1.3
9.1
ENE
1.7
7.1
NE
STEEP
5.7

2023-06-05

04:40 am

2.3
1.8
7.7
NE
1.4
6.2
NNE
STEEP
5.9

2023-06-05

04:10 am

2.1
1.3
7.7
NNE
1.6
5.9
NNE
STEEP
5.5

2023-06-05

03:40 am

2.4
0.9
13.8
N
2.2
7.7
NNE
STEEP
5.9

2023-06-05

03:10 am

2.1
1.0
13.8
NNE
1.9
7.7
NNE
STEEP
5.6

2023-06-05

02:40 am

2.1
1.3
8.3
NE
1.6
6.2
NNE
AVERAGE
5.5

2023-06-05

02:10 am

1.9
0.9
8.3
NE
1.6
7.1
NNE
STEEP
5.2

2023-06-05

01:40 am

1.8
1.1
8.3
NE
1.4
7.1
NNE
AVERAGE
5.4

2023-06-05

01:10 am

1.6
1.1
9.1
NE
1.2
5.9
N
AVERAGE
5.0

2023-06-05

12:40 am

1.7
0.9
8.3
NE
1.4
5.6
N
AVERAGE
5.3

2023-06-05

12:10 am

1.6
1.0
8.3
ENE
1.3
6.2
N
AVERAGE
5.1

2023-06-04

11:40 pm

1.7
1.0
8.3
NE
1.3
5.9
-
AVERAGE
5.2

2023-06-04

11:10 pm

1.7
0.8
8.3
NE
1.4
5.6
NNW
AVERAGE
5.3

2023-06-04

10:40 pm

1.6
1.1
8.3
NE
1.2
6.2
NNE
AVERAGE
5.4

2023-06-04

10:10 pm

1.4
0.7
8.3
NNE
1.2
7.1
NNE
AVERAGE
5.2

2023-06-04

09:40 pm

1.4
0.8
8.3
NE
1.1
6.7
NNE
STEEP
5.4

2023-06-04

09:10 pm

1.5
0.7
8.3
NNE
1.3
6.7
NNE
AVERAGE
5.6

2023-06-04

08:40 pm

1.5
1.2
7.7
NNE
0.8
5.3
NNW
AVERAGE
5.7

2023-06-04

08:10 pm

1.5
1.2
7.1
NNE
0.8
4.0
N
STEEP
5.4

2023-06-04

07:40 pm

1.6
1.0
7.7
NNE
1.2
6.7
NNE
AVERAGE
5.4

2023-06-04

07:10 pm

1.7
1.0
7.7
NNE
1.3
5.9
NNE
AVERAGE
5.3

2023-06-04

06:40 pm

1.8
1.1
7.7
NNE
1.5
5.9
NNE
STEEP
5.4

2023-06-04

06:10 pm

1.9
0.9
11.4
ENE
1.6
7.1
NNE
STEEP
5.2

2023-06-04

05:40 pm

2.1
0.7
12.1
E
2.0
7.7
NNE
STEEP
5.4

2023-06-04

05:10 pm

2.1
0.6
12.1
NE
2.0
7.7
NNE
STEEP
5.2

2023-06-04

04:40 pm

2.3
0.8
11.4
NE
2.1
7.7
NNE
STEEP
5.5

2023-06-04

04:10 pm

2.2
0.4
12.1
ENE
2.2
7.7
NNE
STEEP
5.5
---
---