View the latest observations near Atlantic Tropical Storm Arlene.
Station 41001 (LLNR 635) - EAST HATTERAS - 150 NM East of Cape Hatteras
Owned and maintained by National Data Buoy Center
3-meter discus buoy
SCOOP payload
34.703 N 72.242 W (34°42'9" N 72°14'31" W)

Site elevation: sea level
Air temp height: 3.4 m above site elevation
Anemometer height: 3.8 m above site elevation
Barometer elevation: 2.4 m above mean sea level
Sea temp depth: 2 m below water line
Water depth: 4501 m
Watch circle radius: 4571 yards

Meteorological Observations from Nearby Stations and Ships

Large icon indicates selected station.
Stations with recent data

Stations with no data in last 8 hours
(24 hours for tsunami stations)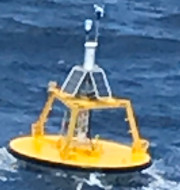 Buoy Camera Photos taken at 06/03/2023 0110 UTC. Click photo to enlarge.
Photos are generally taken hourly during daylight operations.
---
Conditions at 41001 as of
(9:50 pm EDT on 06/02/2023)
0150 GMT on 06/03/2023:

Click on the graph icon in the table below to see a time series plot of the last five days of that observation.

Wind Direction (WDIR):
ESE ( 110 deg true )
Wind Speed (WSPD):
3.9 kts
Wind Gust (GST):
5.8 kts
Wave Height (WVHT):
2.3 ft
Dominant Wave Period (DPD):
6 sec
Average Period (APD):
5.8 sec
Mean Wave Direction (MWD):
SE ( 134 deg true )
Atmospheric Pressure (PRES):
29.82 in
Air Temperature (ATMP):
73.6 °F
Water Temperature (WTMP):
75.4 °F
Wind Speed at 10 meters (WSPD10M):
3.9 kts
Wind Speed at 20 meters (WSPD20M):
3.9 kts
Combined plot of Wind Speed, Gust, and Air Pressure
Supplemental Measurements
Highest 1-minute Wind Speed
Time (EDT)
WSPD
WDIR
9:45 pm
3.9 kts
-
Previous observations
TIME
(EDT)

WDIR


WSPD
kts

GST
kts

WVHT
ft

DPD
sec

APD
sec

MWD


PRES
in

PTDY
in

ATMP
°F

WTMP
°F

DEWP
°F

SAL
psu

VIS
nmi

TIDE
ft

2023-06-02

09:40 pm

E
3.9
5.8
-
-
-
-
29.82
-
73.6
75.4
-
-
-
-

2023-06-02

09:30 pm

E
5.8
7.8
-
-
-
-
29.82
-
73.6
75.4
-
-
-
-

2023-06-02

09:20 pm

E
5.8
7.8
2.3
7
5.6
SE
29.82
-
73.6
75.4
-
-
-
-

2023-06-02

09:10 pm

ENE
5.8
5.8
-
-
-
-
29.81
-
73.6
75.4
-
-
-
-

2023-06-02

09:00 pm

E
5.8
5.8
-
-
-
-
29.81
+0.00
73.6
75.4
-
-
-
-

2023-06-02

08:50 pm

ENE
3.9
5.8
2.6
7
5.6
E
29.81
-
73.6
75.4
-
-
-
-

2023-06-02

08:40 pm

E
3.9
5.8
-
-
-
-
29.81
-
73.6
75.4
-
-
-
-

2023-06-02

08:30 pm

ENE
3.9
5.8
-
-
-
-
29.80
-
73.6
75.4
-
-
-
-

2023-06-02

08:20 pm

ENE
3.9
5.8
2.3
6
5.3
E
29.80
-
73.6
75.4
-
-
-
-

2023-06-02

08:10 pm

ENE
3.9
5.8
2.3
-
5.3
E
29.80
-
73.6
75.4
-
-
-
-

2023-06-02

08:00 pm

ENE
3.9
5.8
-
-
-
-
29.80
-0.01
73.8
75.4
-
-
-
-

2023-06-02

07:50 pm

NE
3.9
5.8
2.3
6
5.2
ESE
29.81
-
73.9
-
-
-
-
-

2023-06-02

07:40 pm

ENE
5.8
7.8
2.3
-
5.2
ESE
29.80
-
73.8
75.6
-
-
-
-

2023-06-02

07:30 pm

ENE
5.8
7.8
-
-
-
-
29.80
-
73.8
75.6
-
-
-
-

2023-06-02

07:20 pm

ENE
5.8
9.7
2.6
6
5.4
ESE
29.80
-
73.9
75.6
-
-
-
-

2023-06-02

07:10 pm

ENE
7.8
9.7
2.6
-
5.4
ESE
29.80
-
74.1
75.6
-
-
-
-

2023-06-02

07:00 pm

NE
7.8
9.7
-
-
-
-
29.80
-0.01
74.3
75.6
-
-
-
-

2023-06-02

06:50 pm

NE
7.8
9.7
2.6
7
5.3
ENE
29.80
-
74.1
-
-
-
-
-

2023-06-02

06:40 pm

ENE
5.8
7.8
-
-
-
-
29.81
-
74.1
75.6
-
-
-
-

2023-06-02

06:30 pm

ENE
5.8
7.8
-
-
-
-
29.80
-
74.3
75.6
-
-
-
-

2023-06-02

06:20 pm

ENE
5.8
7.8
2.6
6
5.1
E
29.81
-
74.3
75.6
-
-
-
-

2023-06-02

06:10 pm

ENE
5.8
7.8
2.6
-
5.1
E
29.81
-
74.5
75.7
-
-
-
-

2023-06-02

06:00 pm

NE
5.8
7.8
-
-
-
-
29.81
-0.01
74.3
-
-
-
-
-

2023-06-02

05:50 pm

ENE
5.8
9.7
2.6
6
5.1
ENE
29.81
-
74.5
75.6
-
-
-
-

2023-06-02

05:40 pm

ENE
7.8
7.8
-
-
-
-
29.82
-
74.7
75.7
-
-
-
-

2023-06-02

05:30 pm

ENE
7.8
9.7
-
-
-
-
29.82
-
74.5
75.7
-
-
-
-

2023-06-02

05:20 pm

NE
7.8
9.7
2.6
7
4.8
E
29.82
-
74.5
75.7
-
-
-
-

2023-06-02

05:10 pm

NE
7.8
9.7
-
-
-
-
29.82
-
74.5
75.7
-
-
-
-

2023-06-02

05:00 pm

NE
7.8
9.7
-
-
-
-
29.81
-0.03
74.3
75.7
-
-
-
-

2023-06-02

04:50 pm

NE
7.8
9.7
2.6
7
5.2
ENE
29.81
-
74.3
75.7
-
-
-
-

2023-06-02

04:40 pm

NE
9.7
11.7
-
-
-
-
29.81
-
74.3
75.6
-
-
-
-

2023-06-02

04:30 pm

NNE
9.7
11.7
-
-
-
-
29.82
-
74.3
75.6
-
-
-
-

2023-06-02

04:20 pm

NNE
9.7
11.7
2.6
6
5.1
E
29.82
-
74.3
75.7
-
-
-
-

2023-06-02

04:10 pm

NNE
9.7
11.7
2.6
-
5.1
E
29.82
-
74.3
-
-
-
-
-

2023-06-02

04:00 pm

NNE
9.7
11.7
-
-
-
-
29.82
-0.02
74.3
75.7
-
-
-
-

2023-06-02

03:50 pm

NNE
9.7
11.7
2.6
7
5.3
E
29.82
-
74.3
-
-
-
-
-

2023-06-02

03:40 pm

NNE
7.8
11.7
2.6
-
5.3
E
29.82
-
74.3
75.7
-
-
-
-

2023-06-02

03:30 pm

NE
9.7
11.7
-
-
-
-
29.83
-
74.3
75.7
-
-
-
-

2023-06-02

03:20 pm

NE
7.8
11.7
2.6
6
5.1
ESE
29.83
-
74.3
75.7
-
-
-
-

2023-06-02

03:10 pm

NNE
7.8
9.7
2.6
-
5.1
ESE
29.83
-
74.5
75.7
-
-
-
-

2023-06-02

03:00 pm

NNE
7.8
9.7
-
-
-
-
29.83
-0.03
74.5
-
-
-
-
-

2023-06-02

02:50 pm

NE
7.8
7.8
2.6
6
5.1
ESE
29.83
-
74.5
75.9
-
-
-
-

2023-06-02

02:40 pm

NE
7.8
9.7
-
-
-
-
29.84
-
74.3
75.9
-
-
-
-

2023-06-02

02:30 pm

NNE
7.8
9.7
-
-
-
-
29.84
-
74.1
75.9
-
-
-
-

2023-06-02

02:20 pm

NNE
7.8
9.7
2.6
6
5.1
ESE
29.84
-
74.3
75.9
-
-
-
-

2023-06-02

02:10 pm

NNE
7.8
9.7
2.6
-
5.1
ESE
29.84
-
74.1
75.7
-
-
-
-

2023-06-02

02:00 pm

NNE
7.8
9.7
-
-
-
-
29.84
+0.00
74.3
-
-
-
-
-

2023-06-02

01:50 pm

NNE
7.8
9.7
2.6
6
5.2
ENE
29.85
-
74.1
75.9
-
-
-
-

2023-06-02

01:40 pm

NNE
5.8
9.7
-
-
-
-
29.85
-
74.3
75.9
-
-
-
-

2023-06-02

01:30 pm

NNE
7.8
7.8
-
-
-
-
29.84
-
74.3
75.9
-
-
-
-

2023-06-02

01:20 pm

NNE
5.8
7.8
2.6
6
5.2
E
29.84
-
74.1
75.7
-
-
-
-

2023-06-02

01:10 pm

NE
5.8
7.8
2.6
-
5.2
E
29.84
-
73.9
75.7
-
-
-
-

2023-06-02

01:00 pm

NE
5.8
7.8
-
-
-
-
29.84
-0.02
74.1
75.6
-
-
-
-

2023-06-02

12:50 pm

NNE
7.8
7.8
2.6
7
5.1
E
29.84
-
74.1
75.6
-
-
-
-

2023-06-02

12:40 pm

NNE
7.8
9.7
-
-
-
-
29.84
-
74.3
75.6
-
-
-
-

2023-06-02

12:30 pm

NNE
7.8
9.7
-
-
-
-
29.84
-
73.9
75.4
-
-
-
-

2023-06-02

12:20 pm

NNE
5.8
7.8
2.6
7
5.0
ENE
29.84
-
74.1
75.4
-
-
-
-

2023-06-02

12:10 pm

NNE
5.8
7.8
2.6
-
5.0
ENE
29.85
-
74.1
75.4
-
-
-
-

2023-06-02

12:00 pm

NNE
5.8
7.8
-
-
-
-
29.85
-0.01
74.3
75.4
-
-
-
-

2023-06-02

11:50 am

NE
5.8
7.8
3.0
7
5.1
E
29.85
-
74.1
75.4
-
-
-
-

2023-06-02

11:40 am

NNE
5.8
7.8
-
-
-
-
29.85
-
74.1
75.4
-
-
-
-

2023-06-02

11:30 am

NE
5.8
7.8
-
-
-
-
29.86
-
74.1
75.4
-
-
-
-

2023-06-02

11:20 am

ENE
5.8
7.8
3.0
6
5.0
ENE
29.86
-
73.9
75.2
-
-
-
-

2023-06-02

11:10 am

ENE
7.8
9.7
-
-
-
-
29.86
-
74.1
75.2
-
-
-
-

2023-06-02

11:00 am

ENE
7.8
9.7
-
-
-
-
29.85
-0.01
74.1
75.2
-
-
-
-

2023-06-02

10:50 am

ENE
7.8
9.7
3.0
7
5.0
ENE
29.85
-
74.1
75.2
-
-
-
-

2023-06-02

10:40 am

ENE
7.8
9.7
-
-
-
-
29.85
-
73.9
75.2
-
-
-
-

2023-06-02

10:30 am

ENE
7.8
9.7
-
-
-
-
29.86
-
73.9
75.2
-
-
-
-

2023-06-02

10:20 am

ENE
9.7
9.7
3.0
7
5.1
ENE
29.86
-
73.8
75.0
-
-
-
-

2023-06-02

10:10 am

ENE
9.7
11.7
3.0
-
5.1
ENE
29.86
-
73.9
75.0
-
-
-
-

2023-06-02

10:00 am

ENE
9.7
9.7
-
-
-
-
29.86
+0.00
73.9
75.0
-
-
-
-

2023-06-02

09:50 am

ENE
7.8
9.7
2.6
6
4.8
ENE
29.86
-
73.9
75.0
-
-
-
-

2023-06-02

09:40 am

ENE
7.8
9.7
-
-
-
-
29.86
-
74.1
75.0
-
-
-
-

2023-06-02

09:30 am

ENE
7.8
9.7
-
-
-
-
29.87
-
74.1
75.0
-
-
-
-

2023-06-02

09:20 am

ENE
7.8
9.7
3.0
6
5.0
E
29.87
-
74.1
75.0
-
-
-
-

2023-06-02

09:10 am

ENE
7.8
9.7
-
-
-
-
29.87
-
74.1
75.0
-
-
-
-

2023-06-02

09:00 am

ENE
7.8
11.7
-
-
-
-
29.87
+0.01
73.9
75.0
-
-
-
-

2023-06-02

08:50 am

ENE
9.7
11.7
3.0
7
5.0
ENE
29.87
-
73.9
75.0
-
-
-
-

2023-06-02

08:40 am

ENE
9.7
11.7
-
-
-
-
29.86
-
73.9
75.0
-
-
-
-

2023-06-02

08:30 am

NE
7.8
11.7
-
-
-
-
29.87
-
73.9
75.0
-
-
-
-

2023-06-02

08:20 am

ENE
9.7
9.7
3.0
6
4.9
ENE
29.87
-
73.8
75.0
-
-
-
-

2023-06-02

08:10 am

ENE
9.7
11.7
3.0
-
4.9
ENE
29.86
-
73.8
75.0
-
-
-
-

2023-06-02

08:00 am

ENE
9.7
11.7
-
-
-
-
29.86
+0.03
73.6
75.0
-
-
-
-

2023-06-02

07:50 am

ENE
7.8
9.7
3.3
6
5.0
E
29.86
-
73.4
75.0
-
-
-
-

2023-06-02

07:40 am

ENE
7.8
11.7
-
-
-
-
29.86
-
73.4
75.0
-
-
-
-

2023-06-02

07:30 am

ENE
9.7
11.7
-
-
-
-
29.86
-
73.2
75.0
-
-
-
-

2023-06-02

07:20 am

ENE
9.7
11.7
3.0
7
4.9
ENE
29.86
-
73.2
75.0
-
-
-
-

2023-06-02

07:10 am

ENE
9.7
11.7
3.0
-
4.9
ENE
29.86
-
73.4
75.0
-
-
-
-

2023-06-02

07:00 am

ENE
9.7
11.7
-
-
-
-
29.86
+0.01
73.4
75.0
-
-
-
-

2023-06-02

06:50 am

ENE
9.7
11.7
3.0
7
5.0
NE
29.86
-
73.4
75.0
-
-
-
-

2023-06-02

06:40 am

ENE
9.7
11.7
-
-
-
-
29.86
-
73.4
75.0
-
-
-
-

2023-06-02

06:30 am

ENE
9.7
11.7
-
-
-
-
29.86
-
73.4
75.0
-
-
-
-

2023-06-02

06:20 am

ENE
9.7
13.6
3.0
7
5.2
ENE
29.85
-
73.2
75.0
-
-
-
-

2023-06-02

06:10 am

ENE
11.7
13.6
3.0
-
5.2
ENE
29.85
-
73.2
75.0
-
-
-
-

2023-06-02

06:00 am

ENE
11.7
13.6
-
-
-
-
29.85
-0.01
73.2
75.0
-
-
-
-

2023-06-02

05:50 am

ENE
11.7
13.6
3.0
7
5.3
ENE
29.85
-
73.2
75.0
-
-
-
-

2023-06-02

05:40 am

ENE
11.7
13.6
-
-
-
-
29.85
-
73.2
75.0
-
-
-
-

2023-06-02

05:30 am

ENE
11.7
13.6
-
-
-
-
29.85
-
73.2
75.0
-
-
-
-

2023-06-02

05:20 am

ENE
9.7
11.7
3.0
7
5.4
NE
29.84
-
73.4
75.0
-
-
-
-

2023-06-02

05:10 am

ENE
9.7
13.6
3.0
-
5.4
NE
29.84
-
73.4
75.0
-
-
-
-

2023-06-02

05:00 am

ENE
9.7
11.7
-
-
-
-
29.84
-0.04
73.4
75.0
-
-
-
-

2023-06-02

04:50 am

ENE
9.7
11.7
3.0
8
5.3
NE
29.84
-
73.4
75.0
-
-
-
-

2023-06-02

04:40 am

ENE
9.7
11.7
-
-
-
-
29.84
-
73.4
75.2
-
-
-
-

2023-06-02

04:30 am

ENE
9.7
11.7
-
-
-
-
29.84
-
73.4
75.0
-
-
-
-

2023-06-02

04:20 am

ENE
9.7
11.7
3.0
7
5.5
NE
29.84
-
73.4
-
-
-
-
-

2023-06-02

04:10 am

ENE
9.7
11.7
-
-
-
-
29.85
-
73.4
75.2
-
-
-
-

2023-06-02

04:00 am

ENE
9.7
11.7
-
-
-
-
29.85
-0.04
73.4
-
-
-
-
-

2023-06-02

03:50 am

E
9.7
11.7
3.0
8
5.9
NE
29.85
-
73.4
-
-
-
-
-

2023-06-02

03:40 am

ENE
9.7
11.7
3.0
-
5.9
NE
29.85
-
73.4
75.2
-
-
-
-

2023-06-02

03:30 am

ENE
9.7
11.7
-
-
-
-
29.85
-
73.4
75.2
-
-
-
-

2023-06-02

03:20 am

ENE
9.7
11.7
3.0
7
6.0
ENE
29.85
-
73.6
75.2
-
-
-
-

2023-06-02

03:10 am

ENE
9.7
11.7
3.0
-
6.0
ENE
29.85
-
73.8
75.2
-
-
-
-

2023-06-02

03:00 am

ENE
9.7
11.7
-
-
-
-
29.86
-0.05
73.9
75.2
-
-
-
-

2023-06-02

02:50 am

ENE
7.8
9.7
3.0
7
5.7
E
29.86
-
74.3
75.2
-
-
-
-

2023-06-02

02:40 am

E
7.8
9.7
3.0
-
5.7
E
29.87
-
74.3
75.2
-
-
-
-

2023-06-02

02:30 am

ENE
7.8
9.7
-
-
-
-
29.87
-
74.5
75.2
-
-
-
-

2023-06-02

02:20 am

E
5.8
9.7
3.0
7
5.8
ENE
29.87
-
74.5
75.2
-
-
-
-

2023-06-02

02:10 am

E
5.8
5.8
3.0
-
5.8
ENE
29.87
-
74.5
75.2
-
-
-
-

2023-06-02

02:00 am

E
5.8
7.8
-
-
-
-
29.87
-0.04
74.5
75.2
-
-
-
-

2023-06-02

01:50 am

E
3.9
5.8
3.0
7
6.0
E
29.88
-
74.7
75.2
-
-
-
-

2023-06-02

01:40 am

ESE
3.9
5.8
-
-
-
-
29.88
-
74.8
75.2
-
-
-
-

2023-06-02

01:30 am

ESE
5.8
5.8
-
-
-
-
29.89
-
74.7
75.2
-
-
-
-

2023-06-02

01:20 am

ESE
5.8
5.8
3.0
7
5.6
ENE
29.89
-
74.7
75.2
-
-
-
-

2023-06-02

01:10 am

ESE
5.8
7.8
-
-
-
-
29.89
-
74.7
75.0
-
-
-
-

2023-06-02

01:00 am

ESE
5.8
7.8
-
-
-
-
29.89
-0.04
74.7
75.0
-
-
-
-

2023-06-02

12:50 am

ESE
5.8
7.8
3.0
7
5.6
ENE
29.89
-
74.7
75.2
-
-
-
-

2023-06-02

12:40 am

ESE
5.8
7.8
-
-
-
-
29.90
-
74.7
75.2
-
-
-
-

2023-06-02

12:30 am

ESE
5.8
7.8
-
-
-
-
29.90
-
74.7
75.0
-
-
-
-

2023-06-02

12:20 am

ESE
5.8
7.8
3.3
7
5.7
E
29.91
-
74.7
75.0
-
-
-
-

2023-06-02

12:10 am

ESE
5.8
7.8
3.3
-
5.7
E
29.91
-
74.7
75.2
-
-
-
-

2023-06-02

12:00 am

ESE
5.8
9.7
-
-
-
-
29.91
-0.01
74.7
75.2
-
-
-
-

2023-06-01

11:50 pm

ESE
7.8
9.7
3.0
7
5.3
E
29.91
-
74.7
75.2
-
-
-
-

2023-06-01

11:40 pm

ESE
7.8
9.7
-
-
-
-
29.91
-
74.7
75.2
-
-
-
-

2023-06-01

11:30 pm

ESE
7.8
9.7
-
-
-
-
29.91
-
74.7
75.2
-
-
-
-

2023-06-01

11:20 pm

ESE
7.8
9.7
3.3
7
5.5
ENE
29.91
-
74.8
75.0
-
-
-
-

2023-06-01

11:10 pm

ESE
7.8
9.7
-
-
-
-
29.91
-
74.8
75.0
-
-
-
-

2023-06-01

11:00 pm

ESE
7.8
9.7
-
-
-
-
29.92
+0.01
74.8
75.0
-
-
-
-

2023-06-01

10:50 pm

ESE
7.8
7.8
3.3
8
5.4
E
29.92
-
75.0
75.2
-
-
-
-

2023-06-01

10:40 pm

ESE
7.8
9.7
3.3
-
5.4
E
29.93
-
75.0
75.2
-
-
-
-

2023-06-01

10:30 pm

SE
7.8
9.7
-
-
-
-
29.93
-
75.0
75.2
-
-
-
-

2023-06-01

10:20 pm

SE
7.8
9.7
3.3
8
5.3
ENE
29.93
-
75.0
75.2
-
-
-
-

2023-06-01

10:10 pm

SE
7.8
9.7
3.3
-
5.3
ENE
29.93
-
74.8
75.2
-
-
-
-

2023-06-01

10:00 pm

SE
7.8
9.7
-
-
-
-
29.93
+0.02
74.7
75.2
-
-
-
-

2023-06-01

09:50 pm

SE
7.8
9.7
3.3
7
5.2
E
29.92
-
74.8
75.2
-
-
-
-
---
Detailed Wave Summary
for 41001 as of
(9:40 pm EDT on 06/02/2023)
0140 GMT on 06/03/2023:

These wave data are displayed in rounded times.

Click on the graph icon in the table below to see a time series plot of the last five days of that observation.

Significant Wave Height (WVHT):
2.3 ft
Swell Height (SwH):
2.3 ft
Swell Period (SwP):
6.2 sec
Swell Direction (SwD):
SE
Wind Wave Height (WWH):
0.7 ft
Wind Wave Period (WWP):
4.0 sec
Wind Wave Direction (WWD):
S
Average Wave Period (APD):
5.8 sec
Previous observations
TIME
(EDT)

WVHT
ft

SwH
ft

SwP
sec

SwD


WWH
ft

WWP
sec

WWD


STEEPNESS


APD
sec

2023-06-02

09:10 pm

2.3
2.3
6.7
SE
0.7
2.9
NE
N/A
5.6

2023-06-02

08:40 pm

2.6
2.3
6.7
E
0.7
4.0
ESE
N/A
5.6

2023-06-02

08:10 pm

2.3
2.3
6.2
E
0.7
3.1
NE
N/A
5.3

2023-06-02

07:40 pm

2.3
2.3
5.9
ESE
0.7
4.0
SE
N/A
5.2

2023-06-02

07:10 pm

2.6
2.3
5.9
ESE
1.0
3.8
ESE
N/A
5.4

2023-06-02

06:40 pm

2.6
2.3
6.7
ENE
1.0
2.9
NE
N/A
5.3

2023-06-02

06:10 pm

2.6
2.3
5.9
E
1.0
2.7
NE
N/A
5.1

2023-06-02

05:40 pm

2.6
2.3
5.9
ENE
1.0
2.7
NE
N/A
5.1

2023-06-02

05:10 pm

2.6
2.3
6.7
E
1.0
3.8
E
N/A
4.8

2023-06-02

04:40 pm

2.6
2.6
6.7
ENE
1.0
3.8
E
AVERAGE
5.2

2023-06-02

04:10 pm

2.6
2.3
5.9
E
1.3
4.5
E
N/A
5.1

2023-06-02

03:40 pm

2.6
2.3
7.1
E
1.0
3.6
E
N/A
5.3

2023-06-02

03:10 pm

2.6
2.3
5.9
ESE
1.0
4.2
ENE
STEEP
5.1

2023-06-02

02:40 pm

2.6
2.3
5.9
ESE
1.0
3.8
E
N/A
5.1

2023-06-02

02:10 pm

2.6
2.3
6.2
ESE
1.0
3.2
ENE
N/A
5.1

2023-06-02

01:40 pm

2.6
2.3
6.2
ENE
1.0
3.4
E
AVERAGE
5.2

2023-06-02

01:10 pm

2.6
2.6
6.2
E
1.0
3.6
ENE
STEEP
5.2

2023-06-02

12:40 pm

2.6
2.6
6.7
E
1.0
3.8
E
AVERAGE
5.1

2023-06-02

12:10 pm

2.6
2.6
6.7
ENE
1.3
3.8
ENE
AVERAGE
5.0

2023-06-02

11:40 am

3.0
2.6
7.1
E
1.0
3.4
ENE
AVERAGE
5.1

2023-06-02

11:10 am

3.0
2.6
5.9
ENE
1.3
3.7
ENE
STEEP
5.0

2023-06-02

10:40 am

3.0
2.6
6.7
ENE
1.3
3.8
ENE
AVERAGE
5.0

2023-06-02

10:10 am

3.0
2.6
6.7
ENE
1.3
4.3
NE
AVERAGE
5.1

2023-06-02

09:40 am

2.6
2.3
5.9
ENE
1.3
4.0
ENE
STEEP
4.8

2023-06-02

09:10 am

3.0
3.0
6.2
E
1.3
3.4
NE
STEEP
5.0

2023-06-02

08:40 am

3.0
2.6
7.1
ENE
1.3
4.3
ENE
AVERAGE
5.0

2023-06-02

08:10 am

3.0
2.6
6.2
ENE
1.3
3.6
ENE
STEEP
4.9

2023-06-02

07:40 am

3.3
3.0
6.2
E
1.3
3.3
NE
STEEP
5.0

2023-06-02

07:10 am

3.0
2.6
6.7
ENE
1.3
4.3
ENE
AVERAGE
4.9

2023-06-02

06:40 am

3.0
2.6
6.7
NE
1.6
4.5
NE
AVERAGE
5.0

2023-06-02

06:10 am

3.0
2.6
6.7
ENE
1.6
5.3
NE
AVERAGE
5.2

2023-06-02

05:40 am

3.0
2.6
6.7
ENE
1.6
4.0
NNE
AVERAGE
5.3

2023-06-02

05:10 am

3.0
2.6
6.7
NE
1.3
4.8
NE
AVERAGE
5.4

2023-06-02

04:40 am

3.0
2.6
7.7
NE
1.3
4.8
NNE
AVERAGE
5.3

2023-06-02

04:10 am

3.0
2.6
7.1
NE
1.0
4.3
NE
AVERAGE
5.5

2023-06-02

03:40 am

3.0
3.0
7.7
NE
1.0
2.7
SE
AVERAGE
5.9

2023-06-02

03:10 am

3.0
3.0
6.7
ENE
1.0
4.3
S
AVERAGE
6.0

2023-06-02

02:40 am

3.0
2.6
7.1
E
0.7
3.6
SE
AVERAGE
5.7

2023-06-02

02:10 am

3.0
3.0
6.7
ENE
1.0
3.3
ESE
AVERAGE
5.8

2023-06-02

01:40 am

3.0
3.0
7.1
E
0.7
3.1
ESE
AVERAGE
6.0

2023-06-02

01:10 am

3.0
3.0
7.1
ENE
1.0
3.7
NE
AVERAGE
5.6

2023-06-02

12:40 am

3.0
3.0
6.7
ENE
1.0
3.8
E
AVERAGE
5.6

2023-06-02

12:10 am

3.3
3.0
6.7
E
1.0
3.7
SSE
AVERAGE
5.7

2023-06-01

11:40 pm

3.0
3.0
7.1
E
1.0
3.1
SE
AVERAGE
5.3

2023-06-01

11:10 pm

3.3
3.3
7.1
ENE
1.0
3.4
ESE
AVERAGE
5.5

2023-06-01

10:40 pm

3.3
3.3
7.7
E
1.0
3.8
ESE
AVERAGE
5.4

2023-06-01

10:10 pm

3.3
3.0
7.7
ENE
1.3
3.8
ESE
AVERAGE
5.3
---
---