Station SIPF1 - Sebastian Inlet State Park North Jetty, FL
Owned and maintained by Florida Institute of Technology
Weather Station
27.862 N 80.445 W (27°51'42" N 80°26'41" W)

Site elevation: 10.06 m above mean sea level
Air temp height: 0.3 m above site elevation
Anemometer height: 1 m above site elevation
Barometer elevation: 0.3 m above mean sea level
Water depth: 8.53 m

An associated ADCP/Wave site is located at 87* 51' 59"W 80* 26' 45"W -- about 0.3 nm (600 yds) NNW of the meteorological station.
Right whales are active off FL from November to April. Speed restrictions of 10 knots apply to vessels 65 feet or greater in specific areas and times along the U.S. East Coast. It is illegal to approach right whales within 500 yards. To learn more about right whales and rules protecting them, go to:
http://www.nmfs.noaa.gov/pr/shipstrike
.
Meteorological Observations from Nearby Stations and Ships

Large icon indicates selected station.
Stations with recent data

Stations with no data in last 8 hours
(24 hours for tsunami stations)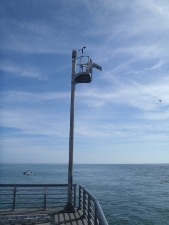 ---
Conditions at SIPF1 as of
(9:30 am EDT)
1330 GMT on 06/10/2023:

Click on the graph icon in the table below to see a time series plot of the last five days of that observation.

Air Temperature (ATMP):
77.0 °F
Water Temperature (WTMP):
80.8 °F
Previous observations
TIME
(EDT)

WDIR


WSPD
kts

GST
kts

WVHT
ft

DPD
sec

APD
sec

MWD


PRES
in

PTDY
in

ATMP
°F

WTMP
°F

DEWP
°F

SAL
psu

VIS
nmi

TIDE
ft

2023-06-10

09:15 am

-
-
-
-
-
-
-
-
-
76.8
80.8
-
-
-
-

2023-06-10

09:00 am

-
-
-
-
-
-
-
-
-
76.5
81.3
-
-
-
-

2023-06-10

08:45 am

-
-
-
-
-
-
-
-
-
76.3
81.1
-
-
-
-

2023-06-10

08:30 am

-
-
-
-
-
-
-
-
-
76.1
80.8
-
-
-
-

2023-06-10

08:15 am

-
-
-
-
-
-
-
-
-
75.6
79.7
-
-
-
-

2023-06-10

08:00 am

-
-
-
-
-
-
-
-
-
75.2
78.4
-
-
-
-

2023-06-10

07:45 am

-
-
-
-
-
-
-
-
-
74.7
77.2
-
-
-
-

2023-06-10

07:30 am

-
-
-
-
-
-
-
-
-
74.3
76.1
-
-
-
-

2023-06-10

07:15 am

-
-
-
-
-
-
-
-
-
73.6
74.7
-
-
-
-

2023-06-10

07:00 am

-
-
-
-
-
-
-
-
-
73.0
73.4
-
-
-
-

2023-06-10

06:30 am

-
-
-
-
-
-
-
-
-
72.7
72.9
-
-
-
-

2023-06-10

06:15 am

-
-
-
-
-
-
-
-
-
72.9
72.9
-
-
-
-

2023-06-10

06:00 am

-
-
-
-
-
-
-
-
-
72.5
72.7
-
-
-
-

2023-06-10

05:45 am

-
-
-
-
-
-
-
-
-
72.7
72.7
-
-
-
-

2023-06-10

05:15 am

-
-
-
-
-
-
-
-
-
72.1
72.3
-
-
-
-

2023-06-10

05:00 am

-
-
-
-
-
-
-
-
-
72.1
72.5
-
-
-
-

2023-06-10

04:45 am

-
-
-
-
-
-
-
-
-
72.7
72.9
-
-
-
-

2023-06-10

04:30 am

-
-
-
-
-
-
-
-
-
72.9
73.0
-
-
-
-

2023-06-10

04:15 am

-
-
-
-
-
-
-
-
-
72.9
73.2
-
-
-
-

2023-06-10

04:00 am

-
-
-
-
-
-
-
-
-
73.0
73.4
-
-
-
-

2023-06-10

03:45 am

-
-
-
-
-
-
-
-
-
73.2
73.4
-
-
-
-

2023-06-10

03:30 am

-
-
-
-
-
-
-
-
-
73.4
73.6
-
-
-
-

2023-06-10

03:00 am

-
-
-
-
-
-
-
-
-
73.9
74.1
-
-
-
-

2023-06-10

02:45 am

-
-
-
-
-
-
-
-
-
73.9
73.9
-
-
-
-

2023-06-10

02:30 am

-
-
-
-
-
-
-
-
-
73.6
73.9
-
-
-
-

2023-06-10

02:15 am

-
-
-
-
-
-
-
-
-
73.9
73.9
-
-
-
-

2023-06-10

02:00 am

-
-
-
-
-
-
-
-
-
73.8
73.9
-
-
-
-

2023-06-10

01:45 am

-
-
-
-
-
-
-
-
-
73.8
73.9
-
-
-
-

2023-06-10

01:30 am

-
-
-
-
-
-
-
-
-
74.3
74.3
-
-
-
-

2023-06-10

01:15 am

-
-
-
-
-
-
-
-
-
74.3
73.9
-
-
-
-

2023-06-10

01:00 am

-
-
-
-
-
-
-
-
-
73.6
73.6
-
-
-
-

2023-06-10

12:30 am

-
-
-
-
-
-
-
-
-
73.6
73.8
-
-
-
-

2023-06-10

12:15 am

-
-
-
-
-
-
-
-
-
74.1
74.1
-
-
-
-

2023-06-10

12:00 am

-
-
-
-
-
-
-
-
-
73.8
74.1
-
-
-
-

2023-06-09

11:45 pm

-
-
-
-
-
-
-
-
-
74.1
74.7
-
-
-
-

2023-06-09

11:30 pm

-
-
-
-
-
-
-
-
-
74.8
75.0
-
-
-
-

2023-06-09

11:15 pm

-
-
-
-
-
-
-
-
-
74.5
74.8
-
-
-
-

2023-06-09

11:00 pm

-
-
-
-
-
-
-
-
-
74.3
75.0
-
-
-
-

2023-06-09

10:30 pm

-
-
-
-
-
-
-
-
-
76.3
77.0
-
-
-
-

2023-06-09

10:00 pm

-
-
-
-
-
-
-
-
-
79.9
80.1
-
-
-
-

2023-06-09

09:45 pm

-
-
-
-
-
-
-
-
-
79.9
80.1
-
-
-
-

2023-06-09

09:30 pm

-
-
-
-
-
-
-
-
-
79.7
79.9
-
-
-
-

2023-06-09

09:15 pm

-
-
-
-
-
-
-
-
-
79.3
79.9
-
-
-
-

2023-06-09

09:00 pm

-
-
-
-
-
-
-
-
-
80.4
80.6
-
-
-
-

2023-06-09

08:45 pm

-
-
-
-
-
-
-
-
-
80.4
80.6
-
-
-
-

2023-06-09

08:30 pm

-
-
-
-
-
-
-
-
-
80.2
80.4
-
-
-
-

2023-06-09

08:15 pm

-
-
-
-
-
-
-
-
-
80.2
80.4
-
-
-
-

2023-06-09

08:00 pm

-
-
-
-
-
-
-
-
-
80.2
80.4
-
-
-
-

2023-06-09

07:45 pm

-
-
-
-
-
-
-
-
-
80.2
80.2
-
-
-
-

2023-06-09

07:30 pm

-
-
-
-
-
-
-
-
-
80.1
80.2
-
-
-
-

2023-06-09

07:15 pm

-
-
-
-
-
-
-
-
-
79.9
80.2
-
-
-
-

2023-06-09

07:00 pm

-
-
-
-
-
-
-
-
-
79.9
80.1
-
-
-
-

2023-06-09

06:45 pm

-
-
-
-
-
-
-
-
-
79.7
80.1
-
-
-
-

2023-06-09

06:30 pm

-
-
-
-
-
-
-
-
-
79.5
80.1
-
-
-
-

2023-06-09

06:15 pm

-
-
-
-
-
-
-
-
-
80.2
80.8
-
-
-
-

2023-06-09

06:00 pm

-
-
-
-
-
-
-
-
-
80.4
81.0
-
-
-
-

2023-06-09

05:45 pm

-
-
-
-
-
-
-
-
-
80.4
81.1
-
-
-
-

2023-06-09

05:30 pm

-
-
-
-
-
-
-
-
-
80.4
81.0
-
-
-
-

2023-06-09

05:15 pm

-
-
-
-
-
-
-
-
-
80.4
81.0
-
-
-
-

2023-06-09

05:00 pm

-
-
-
-
-
-
-
-
-
80.4
81.0
-
-
-
-

2023-06-09

04:45 pm

-
-
-
-
-
-
-
-
-
80.4
81.0
-
-
-
-

2023-06-09

04:30 pm

-
-
-
-
-
-
-
-
-
80.2
81.1
-
-
-
-

2023-06-09

04:15 pm

-
-
-
-
-
-
-
-
-
80.2
80.8
-
-
-
-

2023-06-09

04:00 pm

-
-
-
-
-
-
-
-
-
79.9
80.4
-
-
-
-

2023-06-09

03:45 pm

-
-
-
-
-
-
-
-
-
79.9
80.2
-
-
-
-

2023-06-09

03:30 pm

-
-
-
-
-
-
-
-
-
79.7
80.1
-
-
-
-

2023-06-09

03:00 pm

-
-
-
-
-
-
-
-
-
80.1
80.6
-
-
-
-

2023-06-09

02:45 pm

-
-
-
-
-
-
-
-
-
79.9
80.6
-
-
-
-

2023-06-09

02:30 pm

-
-
-
-
-
-
-
-
-
80.1
80.6
-
-
-
-

2023-06-09

02:15 pm

-
-
-
-
-
-
-
-
-
80.1
80.6
-
-
-
-

2023-06-09

02:00 pm

-
-
-
-
-
-
-
-
-
80.2
81.1
-
-
-
-

2023-06-09

01:45 pm

-
-
-
-
-
-
-
-
-
80.2
81.1
-
-
-
-

2023-06-09

01:30 pm

-
-
-
-
-
-
-
-
-
80.4
82.4
-
-
-
-

2023-06-09

01:15 pm

-
-
-
-
-
-
-
-
-
83.5
88.5
-
-
-
-

2023-06-09

01:00 pm

-
-
-
-
-
-
-
-
-
83.5
89.1
-
-
-
-

2023-06-09

12:45 pm

-
-
-
-
-
-
-
-
-
83.1
87.8
-
-
-
-

2023-06-09

12:30 pm

-
-
-
-
-
-
-
-
-
82.9
87.8
-
-
-
-

2023-06-09

12:15 pm

-
-
-
-
-
-
-
-
-
82.4
86.5
-
-
-
-

2023-06-09

12:00 pm

-
-
-
-
-
-
-
-
-
82.6
87.8
-
-
-
-

2023-06-09

11:30 am

-
-
-
-
-
-
-
-
-
81.9
87.1
-
-
-
-

2023-06-09

11:00 am

-
-
-
-
-
-
-
-
-
81.0
85.3
-
-
-
-

2023-06-09

10:45 am

-
-
-
-
-
-
-
-
-
80.4
85.1
-
-
-
-

2023-06-09

10:30 am

-
-
-
-
-
-
-
-
-
80.2
84.9
-
-
-
-

2023-06-09

10:15 am

-
-
-
-
-
-
-
-
-
80.1
84.4
-
-
-
-

2023-06-09

10:00 am

-
-
-
-
-
-
-
-
-
79.5
84.0
-
-
-
-
---
---