Station MAXT2 - Copano East, Mission-Aransas Reserve, TX
Owned and maintained by National Estuarine Research Reserve System
NERRS Weather Station
28.132 N 97.034 W (28°7'56" N 97°2'4" W)

Site elevation: 3.5 m above mean sea level
Air temp height: 4 m above site elevation
Anemometer height: 4 m above site elevation
Barometer elevation: 4 m above mean sea level

Water Quality data for this Reserve are available at....
MQMT2
-- Mesquite Bay
CWQT2
-- Copano Bay East
MAQT2
-- Aransas Bay
Meteorological Observations from Nearby Stations and Ships

Large icon indicates selected station.
Stations with recent data

Stations with no data in last 8 hours
(24 hours for tsunami stations)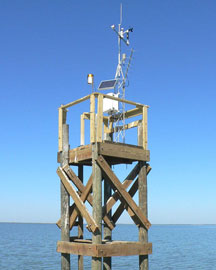 ---
No Recent Reports
---
Links which are specific to this station are listed below:
Data for last 45 days: No data available.
Some data files have been compressed with the GNU gzip program.
---