View the latest observations near Atlantic Tropical Storm Arlene.
Station SGOF1 - Tyndall AFB Tower C (N4), FL
Owned and maintained by National Data Buoy Center
C-MAN Station
MARS payload
29.408 N 84.858 W (29°24'30" N 84°51'30" W)

Site elevation: 0 m above mean sea level
Air temp height: 35.1 m above site elevation
Anemometer height: 35.1 m above site elevation
Barometer elevation: 19.8 m above mean sea level

The highly endangered
Rice's whale
, a newly identified species, inhabit the northeastern Gulf of Mexico year-round along the continental shelf-break between 100m and 400m depth. Vessels can kill or injure whales - please use slow speeds and be prepared to avoid surfacing whales. To report sightings call 1-877-WHALE-HELP.
Meteorological Observations from Nearby Stations and Ships

Large icon indicates selected station.
Stations with recent data

Stations with no data in last 8 hours
(24 hours for tsunami stations)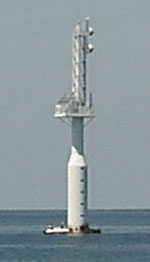 ---
Conditions at SGOF1 as of
(7:00 pm CDT on 06/02/2023)
0000 GMT on 06/03/2023:

Click on the graph icon in the table below to see a time series plot of the last five days of that observation.

Atmospheric Pressure (PRES):
29.76 in
Pressure Tendency (PTDY):
+0.00 in ( Steady )
Air Temperature (ATMP):
79.3 °F
Previous observations
TIME
(CDT)

WDIR


WSPD
kts

GST
kts

WVHT
ft

DPD
sec

APD
sec

MWD


PRES
in

PTDY
in

ATMP
°F

WTMP
°F

DEWP
°F

SAL
psu

VIS
nmi

TIDE
ft

2023-06-02

06:00 pm

-
-
-
-
-
-
-
29.75
-0.02
78.6
-
-
-
-
-

2023-06-02

05:00 pm

-
-
-
-
-
-
-
29.76
-0.04
78.1
-
-
-
-
-

2023-06-02

04:00 pm

-
-
-
-
-
-
-
29.77
-0.06
77.5
-
-
-
-
-

2023-06-02

03:00 pm

-
-
-
-
-
-
-
29.78
-0.07
76.8
-
-
-
-
-

2023-06-02

02:00 pm

-
-
-
-
-
-
-
29.80
-0.06
75.9
-
-
-
-
-

2023-06-02

01:00 pm

-
-
-
-
-
-
-
29.82
-0.03
74.8
-
-
-
-
-

2023-06-02

12:00 pm

-
-
-
-
-
-
-
29.84
-0.01
74.3
-
-
-
-
-

2023-06-02

11:00 am

-
-
-
-
-
-
-
29.86
+0.00
73.9
-
-
-
-
-

2023-06-02

10:00 am

-
-
-
-
-
-
-
29.85
+0.00
73.9
-
-
-
-
-

2023-06-02

09:00 am

-
-
-
-
-
-
-
29.86
+0.02
73.8
-
-
-
-
-

2023-06-02

08:00 am

-
-
-
-
-
-
-
29.86
+0.04
74.7
-
-
-
-
-

2023-06-02

07:00 am

-
-
-
-
-
-
-
29.85
+0.03
75.0
-
-
-
-
-

2023-06-02

06:00 am

-
-
-
-
-
-
-
29.84
+0.00
74.8
-
-
-
-
-

2023-06-02

05:00 am

-
-
-
-
-
-
-
29.82
-0.01
75.0
-
-
-
-
-

2023-06-02

04:00 am

-
-
-
-
-
-
-
29.83
-0.03
75.2
-
-
-
-
-

2023-06-02

03:00 am

-
-
-
-
-
-
-
29.83
-0.04
74.7
-
-
-
-
-

2023-06-02

02:00 am

-
-
-
-
-
-
-
29.84
-0.05
74.7
-
-
-
-
-

2023-06-02

01:00 am

-
-
-
-
-
-
-
29.86
-0.02
75.6
-
-
-
-
-

2023-06-02

12:00 am

-
-
-
-
-
-
-
29.88
+0.01
75.4
-
-
-
-
-

2023-06-01

11:00 pm

-
-
-
-
-
-
-
29.89
+0.04
73.9
-
-
-
-
-

2023-06-01

10:00 pm

-
-
-
-
-
-
-
29.88
+0.04
74.3
-
-
-
-
-

2023-06-01

09:00 pm

-
-
-
-
-
-
-
29.87
+0.04
76.3
-
-
-
-
-

2023-06-01

08:00 pm

-
-
-
-
-
-
-
29.85
+0.02
75.4
-
-
-
-
-

2023-06-01

07:00 pm

-
-
-
-
-
-
-
29.84
-0.01
75.6
-
-
-
-
-
---
---