View the latest observations near Atlantic Tropical Storm Arlene.
Station GWPM6 - 8745651 - West Pier, Gulfport, MS
Owned and maintained by NOAA's National Ocean Service
Water Level Observation Network
30.348 N 89.087 W (30°20'53" N 89°5'13" W)

Air temp height: 5.7 m above site elevation
Anemometer height: 13.8 m above site elevation
Barometer elevation: 7.5 m above mean sea level

This station was decommissioned as a result of the loss of partner funding for Gulfport PORTS as of NOV 6, 2012. For further information contact the PORTS Program Manager (
darren.wright@noaa.gov
).
Meteorological Observations from Nearby Stations and Ships

Large icon indicates selected station.
Stations with recent data

Stations with no data in last 8 hours
(24 hours for tsunami stations)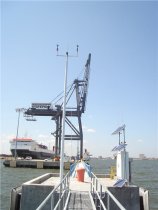 ---
No Recent Reports
---
Links which are specific to this station are listed below:
Data for last 45 days: No data available.
---
Other Available Historical Data
For data before the dates listed above, go to the National Ocean Service's Meteorological Observations page for this station by clicking here:
http://tidesandcurrents.noaa.gov/stationhome.html?id=8745651


---
Some data files have been compressed with the GNU gzip program.
---