View the latest observations near Atlantic Tropical Storm Arlene.
Station 45020 - Grand Traverse Bay South Buoy, MI
Owned and maintained by Northwestern Michigan College
Moored Buoy
44.789 N 85.604 W (44°47'20" N 85°36'14" W)

Site elevation: 176 m above mean sea level
Air temp height: 2.4 m above site elevation
Anemometer height: 2.4 m above site elevation

Buoy recovered for winter.
LimnoTech is currently supporting buoy cameras on select stations in the Great Lakes. Click here to see the latest image for this station.
Meteorological Observations from Nearby Stations and Ships

Large icon indicates selected station.
Stations with recent data

Stations with no data in last 8 hours
(24 hours for tsunami stations)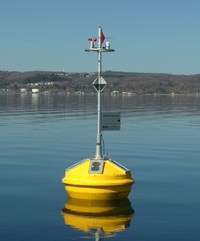 ---
No Recent Reports
---
Links which are specific to this station are listed below:
Data for last 45 days: No data available.
Some data files have been compressed with the GNU gzip program.
---