View the latest observations near Atlantic Tropical Storm Arlene.
Station 44024 - Buoy N01 - Northeast Channel
Owned and maintained by Northeastern Regional Association of Coastal Ocean Observing Systems
Moored Buoy
42.325 N 65.909 W (42°19'29" N 65°54'32" W)

Site elevation: sea level
Air temp height: 3 m above site elevation
Anemometer height: 4 m above site elevation
Barometer elevation: 3 m above mean sea level
Sea temp depth: 1 m below water line
Water depth: 225 m
Watch circle radius: 87 yards

Caution: Right whales may be active in northeast waters year-round. NOAA may establish temporary Dynamic Management Areas (DMAs) to protect aggregations of right whales. Mariners are requested to transit DMAs at 10 knots or less when consistent with safe navigation. For information on currently active DMAs, go to:
http://www.nmfs.noaa.gov/pr/shipstrike
Meteorological Observations from Nearby Stations and Ships

Large icon indicates selected station.
Stations with recent data

Stations with no data in last 8 hours
(24 hours for tsunami stations)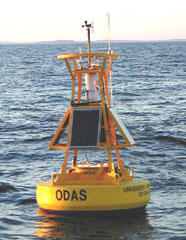 ---
No Recent Reports
---
Links which are specific to this station are listed below:
Data for last 45 days: No data available.
Some data files have been compressed with the GNU gzip program.
---