Station 42501 - SD 1042 - 180 nm South of Southwest Pass, LA (Site of 42001)
Leased by National Data Buoy Center
Uncrewed Surface Vehicle
Saildrone Explorer

Site elevation: sea level
Air temp height: 2.3 m above site elevation
Anemometer height: 5.2 m above site elevation
Barometer elevation: 0.2 m above mean sea level
Sea temp depth: 1.5 m below water line
Water depth: 3194 m
Watch circle radius: 20254 yards

The highly endangered
Rice's whale
, a newly identified species, inhabit the northeastern Gulf of Mexico year-round along the continental shelf-break between 100m and 400m depth. Vessels can kill or injure whales - please use slow speeds and be prepared to avoid surfacing whales. To report sightings call 1-877-WHALE-HELP.
Data from the nearby moored buoy (42001) can be found
here
.
Meteorological Observations from Nearby Stations and Ships

Large icon indicates selected station.
Stations with recent data

Stations with no data in last 8 hours
(24 hours for tsunami stations)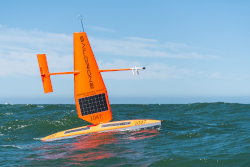 Courtesy Saildrone. Used with express permission.
---
No Recent Reports
---
Links which are specific to this station are listed below:
Data for last 24 hours: No data available.

Data for last 5 days: No data available.

Data for last 45 days: No data available.
Some data files have been compressed with the GNU gzip program.
The weekly status report and the weekly maintenance report also provide valuable station information.
Note that the payload types and the station locations occasionally change.
---