Station 42047 - GERG Flower Gardens Buoy V
Developed and maintained by Texas A&M University
Funding provided by Flower Garden Banks Joint Industry Project
TABS II
27.897 N 93.597 W (27°53'48" N 93°35'50" W)

Site elevation: sea level
Air temp height: 4 m above site elevation
Anemometer height: 4 m above site elevation
Barometer elevation: 4 m above mean sea level
Sea temp depth: 2 m below MLLW
Water depth: 89 m

Station disestablished 04/28/2019.The highly endangered
Rice's whale
, a newly identified species, inhabit the northeastern Gulf of Mexico year-round along the continental shelf-break between 100m and 400m depth. Vessels can kill or injure whales - please use slow speeds and be prepared to avoid surfacing whales. To report sightings call 1-877-WHALE-HELP.
Meteorological Observations from Nearby Stations and Ships

Large icon indicates selected station.
Stations with recent data

Stations with no data in last 8 hours
(24 hours for tsunami stations)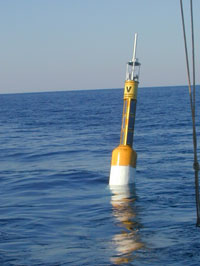 ---
No Recent Reports
---
Links which are specific to this station are listed below:
Data for last 45 days: No data available.
Some data files have been compressed with the GNU gzip program.
---